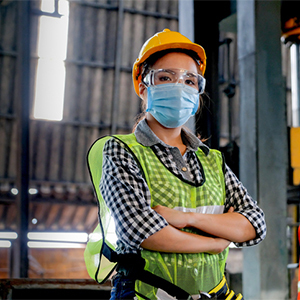 Re-Opening Water Systems Safely After COVID Shut-Downs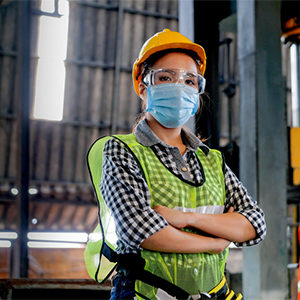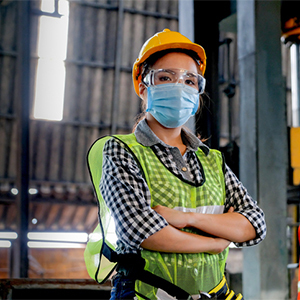 Depending on your situation, your facility may have been shut down for weeks or even months due to COVID-19. During the shutdown, it's likely that water sat stagnant in various places throughout your facility. Just a few days of stagnant water sitting in your pipes or cooling tower are enough for certain pathogens to start growing. By ten days of stagnation, steps need to be taken to ensure the safe re-opening of water systems.
Facilities Re-Opening Nationwide
Mike Griffin, VP of Water Safety Compliance at HOH, has been part of nearly 50 recent re-openings of facilities in metro Detroit and Chicago. He says that some were prepared, while others were caught off-guard:
"People that were flushing their loops weekly during the shutdown – their systems looked good. But those that didn't flush regularly found Legionella, low residual chlorine levels, or in some cases discoloration of the water from elevated levels of copper due to corrosion."
We recognize that facility managers have their hands full with re-openings and that their water systems are just one part of the bigger picture. Read on to learn more about what to look out for, some first steps for re-opening water systems safely, and resources to help you get everything done.
Stagnant Water Dangers to People & Equipment
Standing or stagnant water from shut-down and low-load can cause problems that pose danger to both people and property. Here's a look at the most common threats.
Water-Borne Pathogens
Legionella, which causes a serious, potentially fatal illness known as Legionnaires' disease can grow in contaminated building water systems.
Griffin says:
"Legionella is not unlike COVID-19 in that it enters the respiratory system via a mist, in this case from contaminated water."
Preventing Legionella before it has a chance to grow is key. If you're worried about Legionella growth at your facility, we recommend our Water Safety Check Package, including our SafePath 188 offering.
Now, onto mold.
Mold is a little less common, but still a problem. Mold can form in water that's sprayed in a basement from a broken pipe or other leaks. We don't typically see this in the tap water, but rather any place that water has been left standing with poor air circulation.
Griffin notes, "This creates more of an air quality issue than a water issue, but it plays a part in your re-opening strategy. "
Corrosion & Chemicals & Gases
Not all threats caused by stagnant water are microbial – some are chemical.
Stagnant water can cause corrosion when bacteria in the water secretes acid and eats away at your pipes – typically the threads.
Griffin saw it on some of the recent re-openings:
"The result is you end up with leaky pipes or even with copper or lead in your drinking water, which is dangerous. You'd be surprised how many of the older buildings still have lead present."
You also need to watch out for chlorine which can become corrosive in stagnant water. It sometimes off-gases when you re-open and begin re-using fixtures. When you open up the faucets, it'll smell like you're in a swimming pool. This is not necessarily harmful but is certainly unpleasant.
Finally, sewer gases can build up during shutdown and create unpleasant smells.
According to Griffin: "You should have been spraying water or putting bleach down the drain to avoid this, but it can still be mitigated if you find yourself in that position."
First Steps For Facilities Managers Re-Opening Buildings
Here's a walkthrough, zone-by-zone, of the first places to begin your water systems re-opening process.
HVAC Systems
Many places have a closed-loop system and the condenser side is handled separately. But in larger facilities, you'll use a cooling tower system just for A/C.
Check your cooling towers for microbiological activity upon re-opening, and then monthly.
Chilled Loop Portion & Condenser Side
Check both for microbiological activity upon re-opening. Also run the normal cooling tower tests for microbiological, and residual chlorine.
Water-Using Devices
Empty the ice machine and refrigerator water periodically.
Griffin says, "We tell our customers to dump their ice weekly. As long as you were emptying weekly, you should be fine."
Water features
Fountains, hot tubs, and pools not in use should be drained. Ponds should continue to be aerated to keep oxygen in the water. Re-opening involves refilling, testing, and making sure they fall within safe ranges.
Documenting Your COVID-19 Re-Opening Process
Griffin advises: "Transparency into what you're doing to keep people safe and documenting all the steps you've taken to re-open safely are important. It raises confidence in those returning to your building that it's safe to do so."
By documenting the steps above, you can prove that you did your due diligence to keep occupants, workers, and/or residents safe in your facilities. Doing so can also provide you with a paper trail in the unfortunate event of a Legionella claim filed against your facility.
Resources For Re-Opening Water Systems Safely
Long before COVID-19, we recommended forming a water management plan and designating a water safety team at your facility.
You need a water safety team because it's virtually impossible for a single person to manage their facility's water systems alone.
Having a team and plan in place will help you re-open confidently, but it's also a good idea to work with a professional water treatment partner.
Water Safety Check Package
Since the COVID-19 crisis, HOH has recognized the need to step up water safety and we're currently offering a Water Safety Check Package to help you do just that. The package includes tests, screening, analysis, and reporting on your systems. Upon completion of this package, you'll get a certificate that shows what we've tested and that you're in compliance with safe levels.
Griffin has seen how helpful the Water Safety Check Package has been for his clients:
"The customers really appreciate the extra verification that their systems are ready-to-use. And in rare instances, where we've found areas of concern, we were able to mitigate and re-test to make sure that the facility could be cleared to open safely."
You can learn more about our Water Safety Check Package by downloading this pdf.
And if you're up for a little light reading, several organizations have released guides for re-opening facilities during COVID-19:
The CDC has put together a very robust resource with their Guidance for Reopening Buildings After Prolonged Shutdown or Reduced Operation
You can also find help from the EPA which released guidelines to help the public address water stagnation due to COVID-19
Finally, check out the Getting Back to Work: Preparing Buildings for Re-Entry Guide from BOMA International.
HOH, as always, stands ready to serve our clients during this time. Get in touch with us today to schedule your site visit.